Your blog is your secret weapon for marketing your business!
If you're an entrepreneur, one of your best marketing tools is on your website ... your blog!

A consistent blog presence helps you:
• Build the trust factor for potential clients
• Bring customers back to your site again and again
• Increase engagement from your target audience
• Improve your Google ranking
• Bring new traffic to your site
• Raise your expert status in your industry

Plus, your blog is the source for a variety of re-purposed content, from social media posts and newsletters to speeches and even books!

You need a system that gets you from your idea for a post to traffic reaching your site with relative ease.

You're busy. It can be hard to find the time, the ideas, and the skills to write a post, then publish it, and then promote it. After all, you have a business to run!
That's why you need a simple system that takes you from coming up with ideas to promoting your post with ease. That's what you'll get with Blog Brilliance!


With Blog Brilliance you'll learn how to:
Come up with fabulous ideas for your blog posts (it's a never-fail trick!)

Organize your blog with clear categories

Keep track of all of your ideas with a customized Editorial Calendar

Create eye-catching, shareable images for every blog post

Build your email list with every post
Write like a pro ... even if you think you hate to write!
That last one is a simple trick that blows people's minds when I share it. One of my blogging clients is now a former client (I kind of taught myself out of a job!) because he discovered that he actually loves to write after I shared this tip with him.
What you'll receive: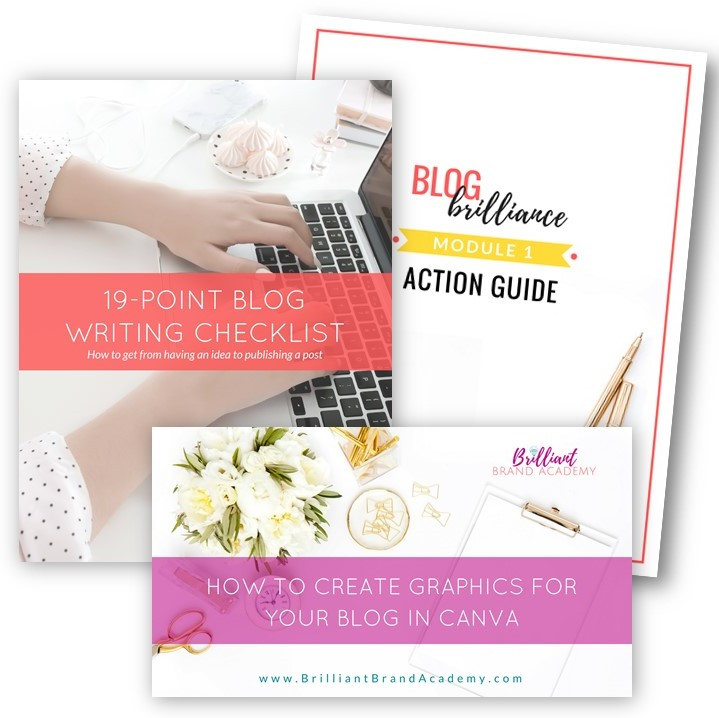 • 6 Comprehensive Modules
• 6+ Video Tutorials
• Action Guides
• Content Creation Cheatsheet
• Editorial Calendar Template
• Lifetime Access (including future updates!)
This course will re-open in Summer 2019.

Click here to receive updates when the course is available for enrollment ... and you'll be on your way to a brilliant blog that shares the best and brightest within you with the world!